Upcoming Events
Day of Action to Stop U.S. Participation in the Saudi War on Yemen
PCNYS is a co-sponsor of this action happening on March 1st outside Rep. Hakeem Jeffries's Office at 55 Hanson Place, Brooklyn.
Anniversary of the Iraq War
On March 19th, members of PCNYS will be joining War Resisters League, Peace Action, the Raging Grannies and others to commemorate the Iraq War and to call for an end to the war in Ukraine, noting that all wars are bad, causing refugees, destruction, and deaths. We will also recognize the role climate change has in global conflict. There will be signs, banners, and leaflets, along with music and street theatre. All are welcome to this march and rally that begins at 2 PM at Union Square and proceeds to Washington Square.
Peacemaker Celebration on Long Island
PCLI will be honoring Veteran for Peace Mac Bica as this year's Peacemaker at a luncheon at St. Joseph's College in Patchogue on April 1st. If you'd like to attend, contact us on our contact page.
Good Friday Way of the Cross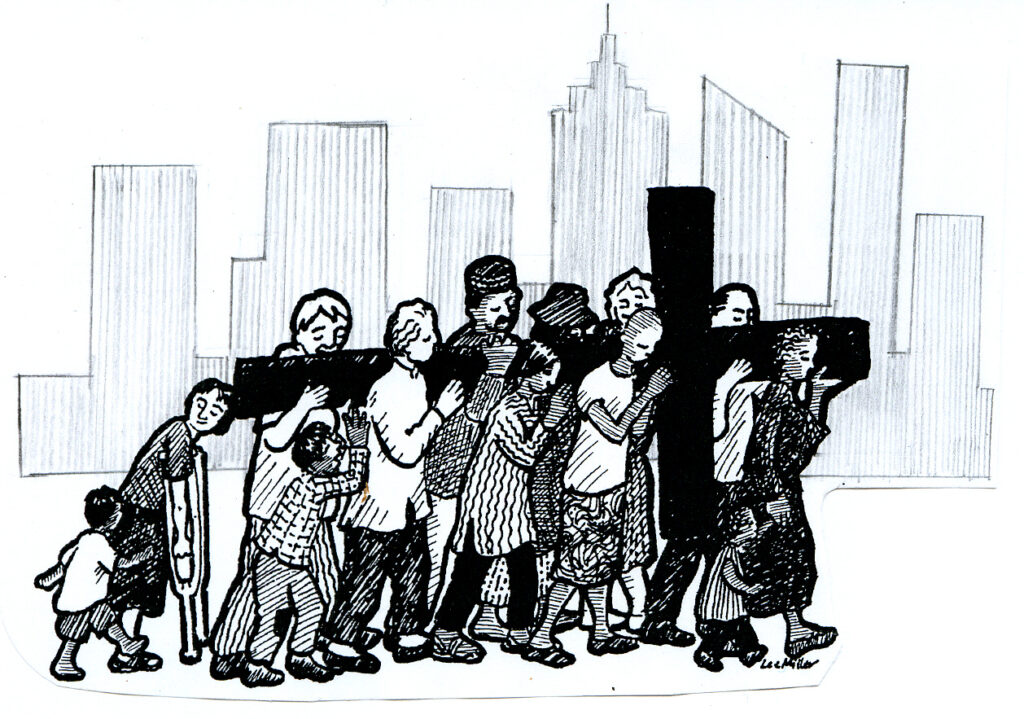 For the 41st consecutive year, and for the first year since the pandemic, Pax Christi Metro New York (PCMNY) will be observing Good Friday in 2023 with its annual Way of the Cross, Way of Peace on April 7th, starting at 8:30 AM at Dag Hammarksjold Plaza in Manhattan. All the Stations will address the theme, "We believe that all are equal in God's sight." Come, participate in this moving prayer experience that recalls how Jesus suffered and continues to suffer in people today.
Don't Nuke the Pacific; Don't Nuke the Hudson
PCNYS will be joining Manhattan Project for a Nuclear-Free World, Peace Action NYS, and others on April 8th at 1 PM in front of the main branch of the New York Public Library on Fifth Avenue and 41st Street in Manhattan to oppose Japan's plan to dump radioactive wastewater into the Pacific Ocean and Holtec's plan to do the same in the Hudson River. Holtec is the owner of Indian Point Nuclear Power Plant, 24 miles north of New York City.
An Easter Season One-Day Retreat
PCMNY invites all to a one-day retreat on Saturday, April 15th, at the Church of St. Francis of Assisi's Francis Room, 135 W. 31st Street, in Manhattan. Mary Anne Muller, acclaimed teacher and retreat facilitator, will be leading us From Adam and Eve to the Cross and Beyond (including a stop with the goddess and on to the new cosmology). This retreat will also be available on Zoom for those unable to attend in person. Registration is required. Download the brochure here or contact PCMNY at [email protected] or 212-420-0250.

Merchants of Death Tribunal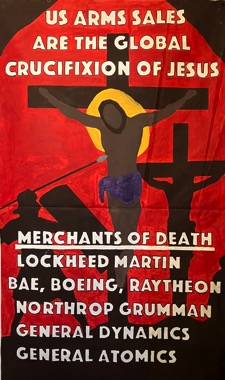 On April 21st, PC Upstate NY will be issuing subpoenas for the Tribunal to be taking place November 10th to the 13th at Marquette University in Madison, Wisconsin. They will be delivering the subpoenas to "Merchants of Death" (see photo) and bishops, senators, and Chase Manhattan Bank in and around the Syracuse area of NYS. They've chosen April 21st, the day before Earth Day, because the U.S. military is one of the greatest, if not the greatest polluter in the country. See https://merchantsofdeath.org/ for more.
Golden Rule
We are looking forward to participating in activities to welcome the Golden Rule sailboat when it comes to New York City in May. The Golden Rule is a peace boat that is currently sailing the waterways of the U.S. to spread the message of nuclear abolition. It will be in NYC during Fleet Week, May 21st to the 27th. There are plans in the works for all kinds of activities while the Golden Rule is in town. It returns to NYC and then sails north to Albany, Utica, Syracuse, Oswego, and Rochester in July. You can learn more at http://www.vfpgoldenruleproject.org/.
PCMNY Peacemaker Celebration
PCMNY is busy preparing for its Peacemaker Award Celebration which is also its 40th Anniversary. There's a new date, Sunday, June 4th. Honorees will be Wendy Fernandez,  Young Peacebuilder from Cristo Rey NYC; Br. Tom Egan, Service Honoree; Kevin Ahern, Local Honoree; and the Kings Bay Plowshares Seven, National Honorees. Please be in touch with PCMNY for a formal invitation and opportunity to register: [email protected] or 212-420-0250.
Kateri Peace Conference
This year's Kateri Peace Conference at the Kateri Tekakwitha National Shrine in Fonda, NY will take place September 8th and 9th. So far Rev. Chris J. Antal, Chaplain at the VA hospital in Philadelphia, PA and former military chaplain who resigned in April, 2016 after five years of service as an act of protest to U.S. policies regarding armed drones and nuclear weapons, will be one of the speakers. Kathy Kelly, an American peace activist, pacifist, author, and one of the founding members of Voices in the Wilderness, and, until the campaign closed in 2020, a co-coordinator of Voices for Creative Nonviolence is the other confirmed speaker thus far.
For more on these and any other events that arise, please keep checking this site.