Kateri Peace Conference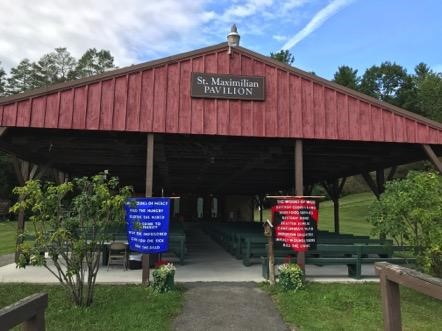 This year's Kateri Peace Conference at the Kateri Tekakwitha National Shrine in Fonda, NY will take place from 5:30 PM September 8th to 3:30 PM September 9th. The theme is "Precious Life – Precious Planet – Precious Peace – Finding Our Way Past War". Confirmed speakers are Kathy Kelly, David Swanson, Martha Hennessy, Debra Sweet, and Gloria Caballero-Roca. All are veteran peace activists with outstanding knowledge and experiences to share and inspire.
To register, please notify John Amidon at [email protected].
Complete information at: www.kateripeaceconference.org or call John @ 581.312.6442
Cost: The Kateri Peace Conference has always been a labor of love. Anyone can attend for free; however, we ask for a modest $20 – $40 donation. As we're sure you understand, there are expenses for both days. Your donation helps cover the cost of lunch, a donation to the Shrine, speaking honoraria, and other refreshments. Donations will be accepted at the events. Checks can be made to Veterans for Peace.
Japan Pilgrimage
As you may remember, many of us were hoping to celebrate Pax Christi International's 75th anniversary in Hiroshima in 2020. Some of us were also hoping to extend the trip to Nagasaki, but COVID got in the way.
I am happy to report that a few of us have been working on reviving the trip for March, 2024. This is "on our own," not with Pax Christi International, but we are still planning this as a Pax Christi pilgrimage. The plan is to go to Hiroshima with the Oleander Initiative out of Massachusetts, then on to Nagasaki with help in planning from Sr. Filo, who is a Tokyo resident and an active member of the Catholic Nonviolence Initiative of Pax Christi International. For those who would also like to see Kyoto, there is that add-on option, helped along the way by Setsuko Amann. We are aiming to start the pilgrimage in Hiroshima on March 7th, move on to Nagasaki on the 12th, heading home on the 17th. Kyoto will precede the pilgrimage, starting on March 4th. Please e-mail [email protected] for the full itinerary with prices and other helpful information. (If you know my personal e-mail, feel free to e-mail me at that address, Rosemarie.)
I've also been advised that, since we need to make reservations, we need to know who is going asap. Those of us who've been planning this were also advised to try to limit our number to 12, not counting guides. Please let us know if you would like to join this pilgrimage as soon as possible. Joining will be on a first come, first serve basis.