The peace movement is definitely alive and well in New York State. Here's the latest.
Welcoming the Golden Rule Peace Sailboat
Mid-May, the Golden Rule Peace Boat sailed into New York Harbor and was greeted by numerous peacemakers and peace events over the course of a week. The Golden Rule is actually a small vessel, but it has an impressive history going back approximately 70 years, and it carries a mighty message of nuclear weapons abolition. PCNYS members joined some of the events, including: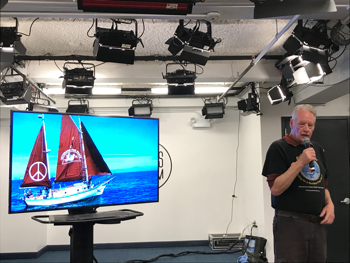 a Peace Walk in upper Manhattan that stopped at several key locations where both nuclear weapons development and opposition have taken place over the years
a talk at the People's Forum that included great visuals, important background information, passionate appeals for an end to the nuclear madness, and intergenerational discussion
a demonstration of support at City Hall where the crew received City Council Certificates for their enduring commitment to education and action for a nuclear-free world.
Upon leaving NYC, the boat proceeded to Port Jefferson, Long Island, where more PCNYS members participated in activities there to highlight the Golden Rule's vital mission.

Move the Money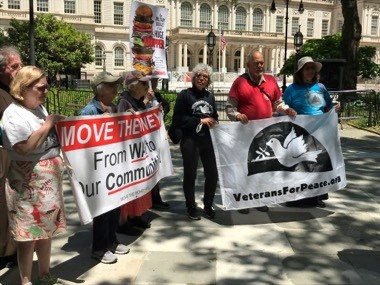 Part of the City Hall event with the Golden Rule crew focused on the Move the Money Campaign, a campaign to get the NYC Council to move city finances from military investments, like nuclear weapons, to those that will provide more and better social services for New Yorkers.
Memorial Day
PCNYS joined Veterans for Peace for their annual solemn procession and tribute in Battery Park, Manhattan on the Sunday of Memorial Day weekend. Some of the vets carried a model coffin as we walked behind a drummer and a bagpipe player. At stops along the route where there are memorials to casualties including those of WWII and the Korean War, there was music by the Raging Grannies and the Filthy Rotten System Band. We distributed fliers noting the tragic numbers of war dead, military and civilians alike, allies, and "enemies." After the procession, standing with the Statue of Liberty behind us, many participants shared prayer or thoughts about loved ones who died because of our failure to make peace instead of war. The public was very respectful of our witness.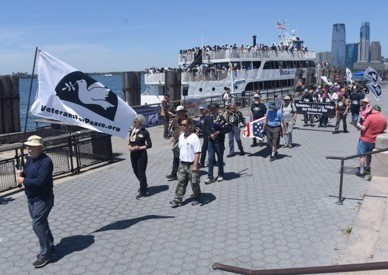 Sr. Mary Beth Moore had an Op-Ed column published in Newsday, the Long Island newspaper, on behalf of Pax Christ Long Island (PCLI). During Memorial Day weekend, there is an annual Air Force Thunderbird Air Show at Jones Beach which promotes militarism, especially among our young people. Sr. Mary Beth's piece explains why PCLI members believe the Air Show is not the way to observe Memorial Day. You can read the Op-Ed here or at the Newsday website:
https://www.newsday.com/opinion/commentary/guest-essays/memorial-day-jones-beach-air-show-gwk1leoa
And PCLI's Peacemaker for 2023, Camillo Mac Bica, a Vietnam Veteran, had an article published on-line. It gives the perspective of a veteran who has experienced the reality of war in contrast to its glorification. Read it here: https://www.pressenza.com/2023/05/memorial-day-by-a-vietnam-war-veteran/
Pax Christi Metro New York Peacemaker Award Celebration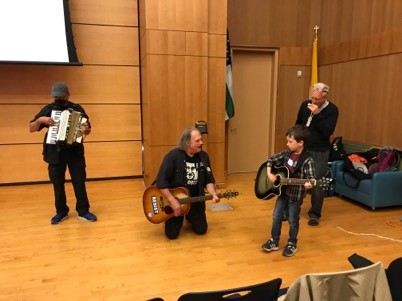 On Sunday, June 4th, PCMNY held its annual Peacemaker Award Reception, this year honoring the Kings Bay Plowshares 7; Dr. Kevin Ahern, Manhattan College Professor of Religion and Peace Studies; Br. Tom Egan, PCMNY Service Volunteer; and Wendy Hernandez Higarede, Maloof Family Young Peacebuilder from Cristo Rey New York High School. The awards ceremony was accompanied by music by the Filthy Rotten System which was further accompanied by Dr. Ahern's 8 year old son, Finn. There were tasty refreshments, a 50/50 raffle, and the general good spirit of a very appreciative audience. You can enjoy more photos and the speeches of the four Plowshares activists who were able to attend here: https://photos.app.goo.gl/aPEYVo21hroqi4ZR6.
Torture Awareness Month
June is Torture Awareness Month. On June 26th, from 6 to 7 PM, the University Presbyterian Church in Buffalo NY, supported by Pax Christi Western NY and the St. Joseph's University Social Justice Committee, held a silent vigil supporting the victims of United States torture that began secretly decades ago, training thousands of South American military brutally to torture. Then came Guantanamo, still open today, where we publicly told the world torture is OK despite the opposition of our founding father George Washington and President Abraham Lincoln who rejected torture as American policy.
Guantanamo Vigil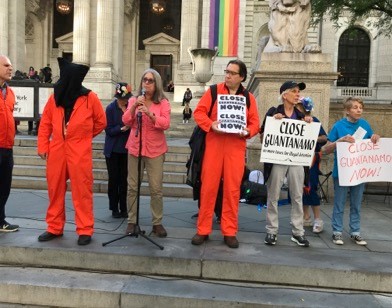 In conjunction with Torture Awareness Month and beyond, people from several peace groups are vigiling outside the main branch of the New York Public Library in Manhattan the first Wednesday of each month from May to August. Our message: "Close Guantanamo Prison." Sadly, most people don't realize the prison is still holding a small number of inmates who were often detained under false pretenses and have never been tried or convicted of any crime. Others still believe these men are terrorists who deserve to be held, abused, or worse. It is long passed time Guantanamo Prison should be closed.
Okinawa Memorial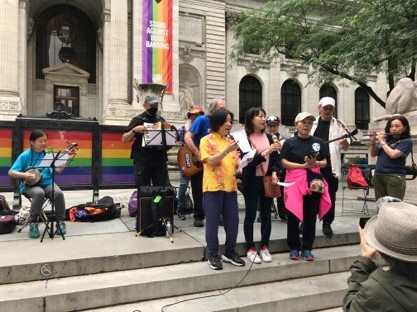 The battle of Okinawa in 1945 lasted approximately three months and killed thousands of military, civilians, enemies, and allies. For the first three weeks of June, every day, people from New York to Japan read the names of all the known casualties over Zoom. It was a very mournful but important experience to be among the readers. In addition, PCNYS was a co-sponsor of the Okinawa Memorial Day Vigil on June 23rd. This Vigil was held in New York City as the people of Okinawa did the same with the message, "All Life is Precious."
Congressional Meeting
Courtesy of Peace Action, three constituents of Representative Grace Meng met with her legislative aide over Zoom to discuss Military Spending, Nuclear Weapons Disarmament, and Human Rights for Palestine. PCNYS's Coordinator, Rosemarie Pace, took responsibility for the section of the meeting focused on Palestine. In particular, she advocated for Rep. Meng's support of H.R. 3103, Rep. McCollum's bill, the Defending the Human Rights of Palestinian Children and Families Living Under Israeli Military Occupation Act; however, she approached it by sharing her personal experience in Aida Refugee Camp in Bethlehem when a group of children, simply playing, were attacked with tear gas by Israeli Defense Force soldiers. The tear gas also reached Rosemarie and her fellow pilgrims, burning their eyes and throats. This firsthand story seemed to touch the aide deeply. Rosemarie also raised the issue of the U.S. Visa Waiver Program (VWP), a waiver which Israel is seeking, but which we are hoping Congress will oppose.
Letters to the Editor
PCLI member Barbara Androu had a letter published in Newsday on May 17, reacting to an article on Rockville Centre Bishop Barres. It expressed her frustration with his lack of leadership on social justice issues, among other things. PCLI member Ed Kubik also wrote, but his letter was not published. Nevertheless, you can read both letters below.
Dear Editor,
I'm grateful to Newsday for attention to and updates on the financial and leadership status of the Catholic Church here in the Diocese of Rockville Centre "Six years into tenure, LI Catholics assess Barres" May 8. Last year Pope Francis ushered in laity participation in a worldwide Synod to help bring God's presence into our world and Church. The people asked for: information on financial transparency and consequences to our churches and victims from sex abuse as well as for the Catholic Ministries Appeal which advertises that all money goes only to ministries; education on Catholic Social Teaching to foster increased compassion and caring for all; an increased and vocal voice from our local bishops on social and economic issues such as immigration, gun violence, nuclear disarmament, racism, bias of all types, gender issues, housing (with empty schools and convents). Financial data have never been provided even after three requests. For these other issues there are supportive Church documents, teachings, writings integral to our faith already existing, but are relatively unknown to our people because of the lack of teaching from our local bishops. The silence on these challenging issues enables partisan politics to form consciences and determine morality. Yet elsewhere in our country and world bishops have been vocal teachers of the faith and spoken out for the common good. Perhaps if Bishop Barres would teach as well as respond to heart-felt letters and requests to meet with faith-centered groups or individuals, I could offer a more positive assessment. Barbara Androu
Dear Editor,
I'm responding to your article on May 8: "Six Years into Tenure, LI Catholics assess Barres."
As a Long Island Catholic, I appreciate how Bishop Barres has reached out to young people, stabilized the decline of Catholic education, and his warm, embracing pastoral style. But I agree with the letter from B. Androu on 5/17 ("Bishop Should teach Us about Our Priorities") which pointed out that Bishop Barres has offered very little education to Long Islanders on Catholic Social Teaching as it relates to nuclear war, climate change, immigration, racism, housing discrimination, and gender issues. For instance, Pope Francis has made it clear that " …the total elimination of nuclear weapons becomes both a challenge and a moral and humanitarian imperative." How should Catholics respond? Bishop Barres could provide the leadership to help Catholics discern a faith-based approach to the many serious social justice challenges facing our world today. It would not only be welcomed, but would result in a more robust Catholic community on Long Island! Edward Kubik
Endorsements
Over the past two months, PCNYS has endorsed the following:
Apartheid Free Campaign
Federal Death Penalty Prohibition Act
Philippine Human Rights Act
U.S. Dept. of Peacebuilding
Letter to the Intrepid Sea, Air, and Space Museum against a "Happy Birthday, Intrepid" children's festival on August 6th, the anniversary of the U.S.'s atomic bombing of Hiroshima, Japan
Open Letter to Japan 2023, apologizing for the atomic bombing and appealing to Japan to join the Treaty on the Prohibition of Nuclear Weapons