The peace movement is definitely alive and well in New York State. Here's the latest from the very busy month of August.
The month began with the COVID-delayed Nuclear Nonproliferation Treaty Review Conference at the United Nations. Fully (and correctly) anticipating little progress and much resistance from the nuclear weapons states, including the U.S.A., several peace organizations, including Pax Christi New York State, sponsored a protest outside the U.S. Mission to the U.N. on August 2nd. You can read about it in this National Catholic Reporter article found here: https://www.ncronline.org/news/justice/activists-arrested-protest-outside-un-mission-appear-ny-court.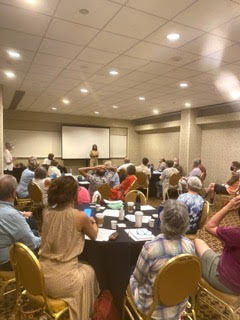 Two days later at the Double Tree Hotel in Arlington, VA, the State and Regional Chapters of Pax Christi USA met for the first time in three years (again due to COVID) where they reignited old friendships, sparked new ones, and shared an abundance of information about accomplishments and challenges. Focus sessions addressed concerns about and means to expand relationships with younger people, people of color, and parishes and the institutional Church, as well as ways to improve our technology skills to enhance our efforts to build Pax Christi and our work for peace and justice. You can read a full report here.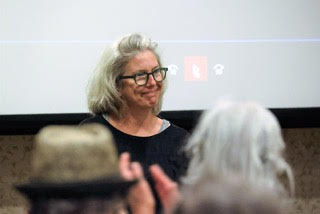 On the evening of August 4th, we were treated to a screening of the excellent film, The Berrigans: Devout and Dangerous followed by a panel discussion that featured Frida Berrigan, daughter of Phil Berrigan and niece of Fr. Dan Berrigan. If you can get a hold of the film, it's highly recommended for being both inspiring and entertaining.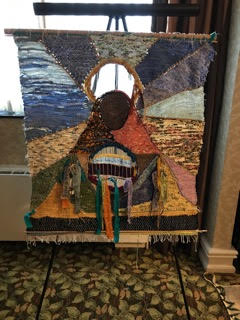 The Pax Christi USA 50th anniversary conference and celebration began officially on Friday evening, August 5th with the theme: Seeing through the Prism of Justice, Weaving Threads of Peace for 50 Years. For those of us who've been part of Pax Christi for many of those 50 years, it was a feast of memories and reunions with old colleagues and friends. For newer members and guests, it was the best possible introduction to our movement. The prayers, speeches, panel discussions, break-out sessions, award presentations, music, food and drink, socials and more were beyond description here, so please go to the PCUSA website for the transcripts of the keynote speeches and numerous photos and videos of all that made this the event of the decade (at the very least). Go to https://paxchristiusa.org/2022/08/23/save-the-date-pax-christi-usa-celebrates-50-years-at-the-national-conference/.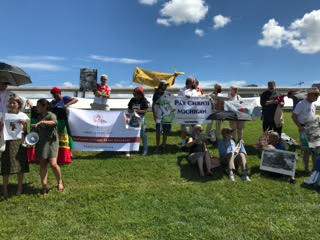 This amazing conference and celebration fell on the weekend of the somber anniversaries of the bombings of Hiroshima and Nagasaki, Japan 77 years ago, so much focus was placed on the issue of nuclear weapons. It began with Santa Fe Archbishop John C. Wester's opening plenary on his pastoral letter, Living in the Light of Christ's Peace: A Conversation toward Nuclear Disarmament and ended with a moving Peace Vigil at the Pentagon in the sweltering summer heat.
While hundreds of us were gathered in the shadow of the belly of the beast, including many from Pax Christi New York State, other NYS members were keeping the message of nuclear disarmament and peace building alive closer to home. Jack Gilroy, a leading member of Pax Christi Upstate New York Ben Salmon Chapter, hosted the second annual Children's Peace Festival in Binghamton on August 6th, the actual anniversary of the bombing of Hiroshima. You can read about and watch a video of this hope-filled and uplifting event at https://www.wbng.com/2022/08/07/families-gather-second-annual-childrens-peace-fair/.
Then on Sunday afternoon, August 7th, Pax Christi Metro New York held its annual Hiroshima/Nagasaki Memorial in Greenwich Village at Fr. Demo Square. They distributed a leaflet, prayed, sang, and rang a gong 77 times for the 77 years since the horrific dropping of the nuclear bombs on Hiroshima and Nagasaki.

The 40-Day Fast for Gospel Nonviolence, announced on our Events page in late June, ended on August 9th. This year people from across the country took turns fasting in a variety of ways and covering the period from July 1st to August 9th, that fateful date during WWII that marks the executions of St. Teresa Benedicta of the Cross (Edith Stein), Jewish convert to Catholicism and holocaust victim, and Blessed Franz Jaegerstaetter, martyr for refusing to serve in Hitler's army, and also marks the atomic bombing of Nagasaki, Japan, the largest Christian community in Japan. We began and ended the fast with prayers you can access here and here.
PCNYS is also honored to be able to join fellow peacemakers by endorsing a number of letters and statements opposing the following: large-scale child detention centers, Myanmar military training in Japan, nuclear weapons and nuclear energy, a replacement U.S. military base at Henoko-Oura Bay in Okinawa, and arms production businesses. We call instead for compassionate care for migrant children, arms control negotiations, and economic conversion.
And a reminder: There is an on-going project led by John Baum of Pax Christi Long Island. It is a Peace Pole Project that began about three years ago. Partnered with Long Island Rotary Clubs, there is a goal of planting 100 Peace Poles on Long Island. It is described in detail at www.peacepoles.info. In addition, there is a related project scheduled to begin in the Fall in Long Island schools, the Indoor Peace Pole Contest, with a much bigger ambition: an International Indoor Peace Pole Contest in schools around the world. And there's one more piece to this impressive project. There is an Indoor Peace Pole "lender" project in which indoor Peace Poles are displayed in libraries or other places with significant public exposure. The plan is to make these Peace Poles available for loan (at no cost) to any library or organization for periods of days or months, depending on the organizations needs. Finally, the Peace Pole Project has led to the International Cities of Peace organization. Consequently, the town of Patchogue on Long Island is now the 331st International City of Peace.
One last thing for now: If you'd like to learn a little more about Pax Christi New York State, you can listen to an interview done December, 2021 for Hudson Mohawk Radio at https://soundcloud.com/mediasanctuary/rosemary-pace-pax-christi-ny.