Though not a Pax Christi event, our Co-coordinator, Rosemarie Pace, spent a week in January at the U.S.-Mexico border. You can read her report about this moving experience here.
The peace movement is definitely alive and well in New York State. Here's the latest.
Guantanamo Anniversary: On January 11, the 21st anniversary of the opening of the Guantanamo Bay Prison, 35 people, including Tom Casey of Pax Christi Western New York and members of Witness Against Torture, the National Religious Campaign Against Torture, the Dorothy Day Catholic Worker, Muslim Counterpublics Lab, Healing and Recovery After Trauma and the Tea Project gathered before the White House in orange jumpsuits representing the 35 prisoners remaining in Guantanamo for a Close Guantanamo Vigil, songs and speakers. Their message: "We are still here because they are still there." Their demand to the U.S. Government: Close Guantanamo and immediately release the 20 men who have been cleared for release.
In addition, most of the above groups formed the Guantánamo Survivors Fund and are actively raising funds because many of the survivors who have been released find themselves desperate and abandoned in countries not their own after their transfer. The United States bears grave responsibility for the men's predicament and must step forward to meet their needs.
Martin Luther King, Jr. Day Observed: On January 22nd, Pax Christi Upstate NYjoined others atthe 38th annual Rev. Martin Luther King Jr. celebration remembrance dinner. They, with a group of other peace and justice members, added a different twist to the event. They reminded almost 2,000 people dining on the floor of the Syracuse University Dome that Rev. Martin Luther King Jr. broke his silence on the violence of the Viet Nam War with his Beyond Viet Nam–I Cannot Be Silent speech of April 4th, 1967.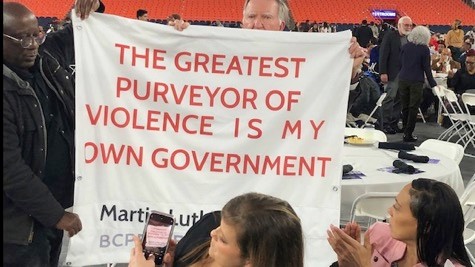 After dinner, members of Upstate Drone Action, Pax Christi, Ithaca Catholic Workers, Veterans for Peace Chapter 90, and Peace Action of NYS paraded their new banner, THE GREATEST PURVEYOR OF VIOLENCE IN THE WORLD IS MY OWN GOVERNMENT (Martin Luther King, Jr.).
Dinner attendees were delighted. Applause erupted and some stood as the banner was walked around the huge dome. For complex reasons, Rev. Martin Luther King Jr.'s identification of militarism as one of the three evils of our culture is often set aside to focus on racism and poverty. At the largest university campus entertainment structure in the United States this night, the focus on militarism gave thousands some time to consider the horror of our cultural approval of war. Rev. King could no longer remain silent. Peace and justice people have always focused on militarism, but on this day they found joy in bringing Rev. King's message directly to many hundreds at Syracuse University Dome.
Learn more at these two websites: upstatedroneaction.org and bcpeaceaction.org.
Ash Wednesday: Pax Christi Upstate NY, The Ben Salmon Chapter and friends gathered on Ash Wednesday, February 22, 2023 at the Cathedral of the Immaculate Conception in Syracuse to encourage the parishioners attending Mass to hold dear and practice the nonviolent gospel of Jesus, resist drone warfare, end the U.S. shipment of weapons worldwide, and call for peace negotiations to end the war in Ukraine. They vigiled, prayed, and leafleted. Their flyer is immediately below. You can also see a two-minute video of their action here: https://www.youtube.com/watch?v=q63a0c-GDEY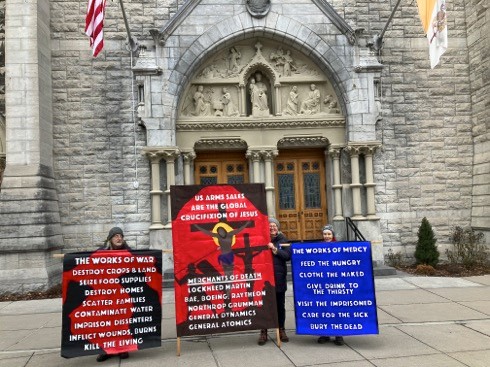 Ash Wednesday is a day to confess sins, ask forgiveness, and do penance. It is also a day to hold dear and resolve to practice the nonviolent gospel of Jesus.
The nonviolent gospel of Jesus is the power of love in action. Do we hold love in our hearts? Do we have a nonviolent church, or are we worshipping at the altar of war? Jesus taught love, mercy, forgiveness, and nonviolence. The New Testament commands us to turn away from violence and resolve conflicts with peaceful solutions.
"Jesus said to Peter, "Put your sword into the sheath. Shall I not drink the cup which My Father has given Me?" John 18:11
And what of the arms trade and drone assassinations taking place in our very community? Lockheed Martin is but a few miles away, as is Hancock Field. And Raytheon, Northrop Grumman, BAE, and Boeing are close by too. The arms trade is the manufacturing, sale, and distribution of weapons which are designed for killing and injuring others. These, the Merchants of Death, are fueling conflict, perpetuating violence, and causing suffering and death worldwide. The victims, more often than not, are the most vulnerable: women, children, and impoverished communities already suffering from poverty and oppression.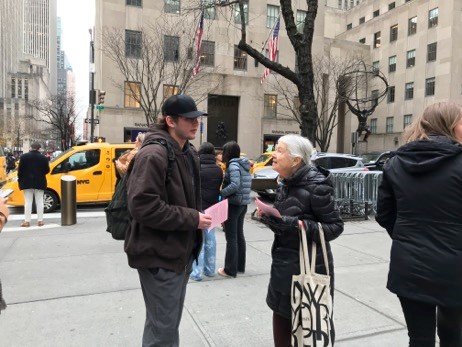 Pax Christi Metro New York (PCMNY) did a similar action at St. Patrick's Cathedral in Manhattan. Their leaflet is the Lenten Reflection linked on the "What We Do" page. Nine members and friends distributed approximately 1000 leaflets with many more brought to parishes and e-mailed widely.
Merchants of Death War Crimes Tribunal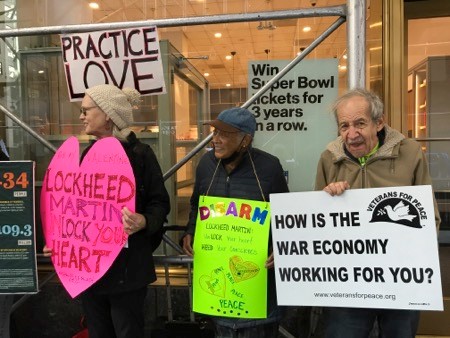 Members of PCMNY joined Veterans for Peace, Peace Action, and others on Valentine's Day outside the Lockheed Martin office in Manhattan, calling on Lockheed Martin, one of the biggest manufacturers of military weapons, to unlock its heart and heed its conscience to promote peace instead of war. All present signed a citation of contempt presented to Lockheed Martin for failing to comply with a subpoena to appear before the Merchants of Death Tribunal in November 2022 and commanding a representative of the company, consequently, to appear virtually before a Special Prosecutor on March 20th.
A National Day of Action! Defuse Nuclear War! Call for Diplomacy in Ukraine.
On Feb. 24, members of Pax Christi Upstate New York, Ithaca Catholic Workers, and fellow activists rallied on behalf of diplomacy, peace, and nuclear de-escalation at the Peace Triangle in Ithaca, NY. They carried signs calling for the U.S. to lead with diplomacy in Ukraine and for nuclear disarmament.
The Golden Rule Peace Boat
PCMNY attended a coalition meeting on Zoom to plan for the arrival of the Golden Rule in New York Harbor Fleet Week, May 21st to the 27th. Pax Christi Western NY met with Russell Brown, head of their local Veterans for Peace chapter, to plan the August stop of the Golden Rule at Buffalo.
Living in the Light of Christ's Peace:
A Conversation Toward Nuclear Disarmament
PCMNY re-sent their letters about Archbishop Wester's pastoral letter on nuclear disarmament to their diocesan Bishops by certified mail, but no response yet. Like PCMNY, Pax Christi Long Island (PCLI) wrote to their Bishops about Archbishop Wester's pastoral letter but have not yet received a response.
Peace Pole Project
PCLI continues its work on thePeace Pole project. There is a new indoor one at St. Joseph's College. Others are being presented in honor of Fr.Ron Richardson and one of their long-time veterans of peace, Agnes Kelly.
Memorial Day Air Show
PCLI is also meeting with the local police about resuming their presence at the Memorial Day Air Show. They have not been there since the pandemic.
Youth and Young Adult Outreach
PCNYS is working on Youth and Young Adult Outreach. They are trying several approaches, including investigating Catholic high schools and colleges to find out which have Peace Studies courses or programs and offering Jack Gilroy's play, Reap What You Sow, about military recruitment; speakers on Ben Salmon who was a conscientious objector during WWII; and, in collaboration with World Can't Wait, the "We Are Not Your Soldiers" project which involves visiting classes (primarily high school and college, occasionally middle school) where the veterans share their experiences in the military very openly and honestly and engage in dialogue with the students, answering any questions they may raise. Read more about this project at these websites:
https://www.wearenotyoursoldiers.org/our-speakers-have-new-published-memoirs/ and
Apartheid Free Pledge
PCNYS has signed the Apartheid Free Pledge on behalf of the Palestinian people
Peace in Ukraine Coalition
PCNYS has joined the Peace in Ukraine Coalition of CodePink to STOP THE WAR IN UKRAINE, call for Negotiation Before Escalation, and to say No to NATO Expansion.
Overall, our purpose is to educate Catholics and others to press for peace and justice in the name of the nonviolent Christ.
To join with nonviolent Roman Catholics, go to https://paxchristiusa.org.
To learn more about the weapons industry, go to merchantsofdeath.org.
Interested in resisting drone assassinations? Go to https://upstatedroneaction.org/wp/.
To end the war in Ukraine, call your representative and insist on peace negotiations. No more weapons! 202-224-3121