The peace movement is definitely alive and well in New York State. Here's the latest.
40-Day Fast for Gospel Nonviolence
From July 1st to August 9th, well over a dozen individuals and communities participated in a rolling fast for Gospel nonviolence, beginning and ending with prayer. Click on "beginning" and "ending" to read the background to the Fast and the prayers that we shared in solidarity with one another.
Guantanamo Vigil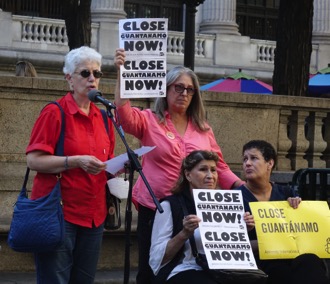 The first Wednesday each month has become a time for people to gather in public spaces to remind our fellow citizens of the on-going existence of the mostly forgotten Guantanamo Prison and to call for its closure. Thirty men are still being held there at the estimated annual cost of $11 million per detainee. Ten of them have been charged under military commission proceedings but are still not tried. Sixteen others have been cleared for release by consensus of American National security agencies, but are still being held. In New York City, we stand outside the main branch of the New York Public Library as part of this Vigil. In September our Coordinator Rosemarie Pace had the honor of offering the prayer "Guantanamo Brothers, Forgive Us" by Sr. Dianna Ortiz who, herself, was a victim of torture and who founded the Torture Abolition and Survivors Support Coalition.
Scranton Pick Up the Phone Joe Rally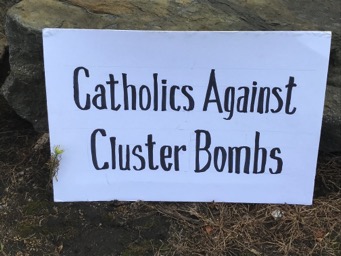 On July 22nd, 2023, several of us New Yorkers made the trip to Scranton, PA to say NO to cluster bombs being made and shipped to Ukraine. Why Scranton? Scranton is home to a military facility that produces parts of cluster bombs. Scranton is also the home base of President Joe Biden. Why oppose cluster bombs? If for no other reason, they are illegal according to international law, but also because they are an ungodly weapon that cannot be controlled or contained. A cluster bomb can release hundreds of bomblets that spread over a wide range of territory. Many don't detonate immediately, so they can explode days, weeks, months, or even years later. Children may pick them up thinking they are toys. Most victims are civilians, and most civilian casualties are children. We converged on Scranton to urge an end to these horrific weapons. You can read about the action at the following links:
https://covertactionmagazine.com/2023/08/25/citizens-rally-outside-artillery-factory-in-president-bidens-hometown-that-produces-parts-of-cluster-bombs-destined-to-kill-eastern-ukrainians-and-russians/
https://www.wvia.org/news/local/2023-07-24/peace-rally-held-in-scranton
Hiroshima/Nagasaki Memorials
The anniversaries of the atomic bombings of Hiroshima and Nagasaki, Japan on August 6th and August 9th (the reason for the timing of the 40-Day Fast for Gospel Nonviolence) bring with them numerous commemorations and appeals for nuclear weapons abolition. Below are highlights from those in which Pax Christi New York State (PCNYS) members participated.
Each year we are invited to send a message to the The Viennese Peace Movement together with the Hiroshima Group Vienna, including Pax Christi Vienna, which holds an annual memorial ceremony on behalf of the victims of the first atomic bombs on the cities of Hiroshima and Nagasaki. You can read this year's message composed by our Coordinator here.
Edith Newman of Pax Christi Metro New York (PCMNY) represented PCMNY at A Vigil for Peace at the Chapel of the Sacred Heart in Manhattan, sponsored primarily by the Sant'Egidio Community.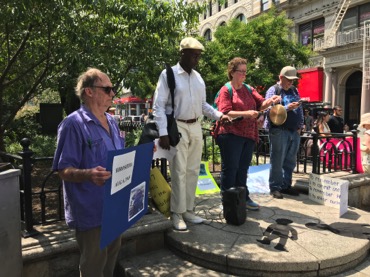 Members of PCNYS were invited to attend the Hiroshima Day Memorial at the Hudson Valley Park of Study and Reflections in Kingston, NY where there were two film screenings, one about a survivor of the Hiroshima bombing and the other on the "Beginning of the End of Nuclear Weapons," and also two musical pieces, including the dance performance, "War and Peace," by Yuri Ogasawara.
PCMNY held its annual Hiroshima/Nagasaki Memorial on Saturday, August 5th by the Gandhi Statue in Union Square, Manhattan. It included prayer, a precession around the park, a moment of silence, the ringing of a gong 78 times for the number of years since the historic bombings, leafleting, and music.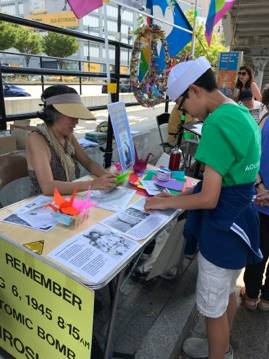 Under the leadership of War Resisters League, a group of peace organizations, including PCNYS, sent a letter to Intrepid officials and the media objecting to a "birthday party" for the Intrepid on August 6th, not the museum's birthday, ignoring the tragedy of August 6th 78 years ago and instead turning it into a children's celebration. On August 6th, in contrast to the party, in two groups, we marched and leafleted, taught children and adults how to make origami peace cranes, handed out a Sadako Word Search based on the children's book Sadako and the 1000 Paper Cranes which we also distributed to those who made a crane, and hung banners, one of which said "Birthdays are for Fun, not fighting. The Intrepid is for Fighting, not fun. Let's say NO to Partying on a War Vessel."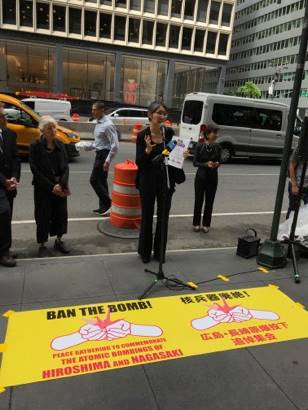 Pax Christi Upstate NY (PCUNY) and fellow peace groups held their annual Hiroshima Day Memorial at Congregational Church, Binghamton with song, prayer, a walk to a neighboring Presbyterian Church, the carrying and displaying of the Pax Christi banner and other banners,open mic, the sounding of a gong, and planting of a gingko tree (sole survivor after the bombing).
PCNYS, PCMNY, and fellow peace organizations joined with the Manhattan Project for a Nuclear-Free World outside the Japanese Consulate in Manhattan on August 8th. Four of our number went into the Consulate office to deliver this year's "Open Letter to the People of Japan" which you can read here. In short, it apologizes for the atomic bombings and appeals for Japan to commit to nuclear weapons abolition by signing and ratifying the Treaty on the Prohibition of Nuclear Weapons, among other points. The delegation of four also delivered a "Roses to Missions" Certificate with the same appeal regarding the TPNW and Don't Nuke the Pacific postcards and badges. The public witness included brief speeches, a moment of silence, and music. The presentation from PCNYS is available here.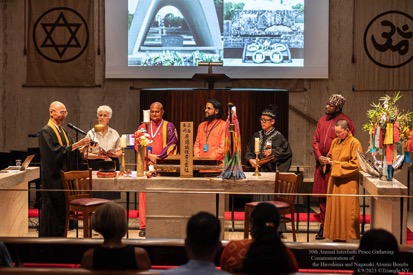 Finally for this year's Hiroshima/Nagasaki observances, our Coordinator offered the Christian prayer at an interfaith program at the UN Church Center organized by Buddhist Rev. T. K. Nakagaki. This beautiful program also included Hindu and Muslim prayers, spoken messages, music, dance, and film.
The Golden Rule Peace Boat
Pax Christi Western New York (PCWNY) and colleagues welcomed the Golden Rule in the Buffalo region with a workshop that focused on actions for nuclear demilitarization with follow-up to come with Veterans for Peace.
Meeting with Fr. Bonnie Mendes of Pakistan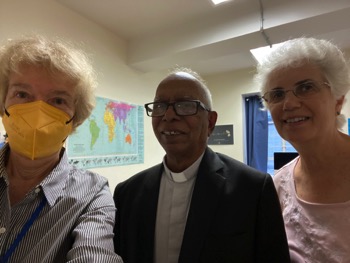 Our Coordinator had the honor of being invited to a meeting with Fr. Bonnie Mendes, a renowned Pakistani priest and peacebuilder on August 31st. Fr. Bonnie shared the heart-breaking story of life for Christians under the current hostile Pakistani government. Only 2% of the Pakistani people are Christians, making them an easy target for discrimination, false accusations of desecration of the Qur'an, attacks, arrests, and more. Sadly, moderate and liberal Muslims in Pakistan are a small minority and at risk themselves. Freedom is limited and varies from province to province, especially for women and girls. Even where there are laws that are good and protective, they tend not to be enforced or implemented. Disgracefully, the U.S. government turns a blind eye to these abuses, favoring an alliance with the Pakistan military in particular and the Pakistan government in general. Fr. Mendes's expressed need is to speak up to the U.S. government and Geneva with facts, figures, and human rights. He said Christians live in fear, but also courage. He urges they live their Christianity with love, nonviolence, and forgiveness.
Kateri Peace Conference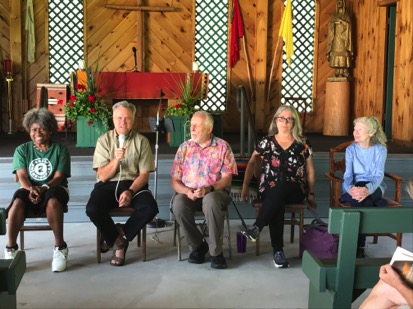 The 25th annual Kateri Peace Conference, Sept. 8-9, 2023 at the beautiful St. Kateri Tekakwitha National Shrine in Fonda, NY, included passionate speakers addressing the theme of Precious Life – Precious Planet – Precious Peace – Finding Our Way Past War. The speakers were Gloria Caballero-Roca, Cuban-American and Member of the Green Rainbow Party Coalition; Kathy Kelly, Merchants of Death War Crimes Tribunal; Nick Mottern, BanKillerDrones.org and Merchants of Death War Crimes Tribunal; David Swanson, World Beyond War; and Debra Sweet, World Can't Wait. Deep thanks go to the organizers PCNYS Council Member John Amidon and Maureen Aumand and all the many committed peace builders who attended. Read more at these websites: https://dailygazette.com/2023/09/07/kateri-tekakwitha-peace-conference-to-be-held-in-fonda-this-friday-and-saturday/ and https://shows.acast.com/bar-crawl-radio/episodes.
March To End Fossil Fuels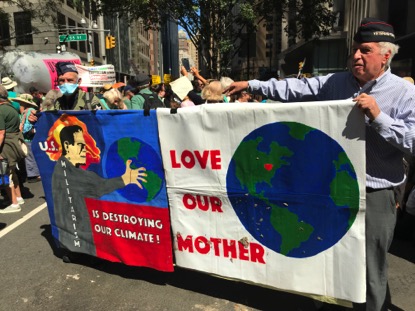 PCNYS and PCMNY were pleased to be endorsers of this massive March through the streets of Manhattan, NYC, which attracted 75,000 participants from across the city, the state, and the country. Some of us walked with the Faith Hub and others with the Anti-Militarism Hub, which were conveniently adjacent to each other and which reflect both our identities. The simple but critical message to end fossil fuels was addressed to the UN in advance of the UN Climate Ambition Summit starting the next day, September 18th.
UN Peace Day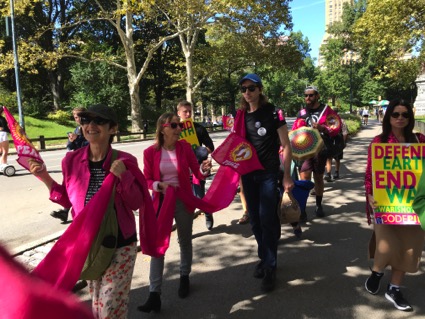 In New York City, PCNYS endorsed CodePink's celebration of UN International Peace Day on September 21st to declare War Is Not Green. This year, simultaneously, it was also part of New York City Climate Week. The celebration took place in Central Park on a beautiful end-of-summer day, starting at Strawberry Field and processing to the lake and back. There was lively music; a few brief speeches; the distribution of handouts informing people of how much just a 5% cut in the Pentagon budget could provide in renewable energy, housing, and education; and many happy exchanges of "Happy Peace Day" with passersby.
In the town of Sayville, Long Island, Pax Christi Long Island (PCLI), the South Country Peace Group, and others proclaimed "Stop the Arms Trade, Cut the Arms Budget". The event included a few presentations by local peace activists, music, a labyrinth walk, and information tables.
In Upstate NY, Maine-Endwell Fifth Graders from Homer Brink and Maine Memorial Schools, led by teachers Hilary TerBoss and Jim Tokas, celebrated Peace Day with music, song, games, storytelling, and more. This now annual Children's Peace Fair was organized by PCUNY member Jack Gilroy and others. See more at https://paceebene.org/blog/2023/9/25/embracing-a-nonviolent-future-at-a-district-wide-childrens-peace-fair.
UN International Day for the Total Elimination of Nuclear Weapons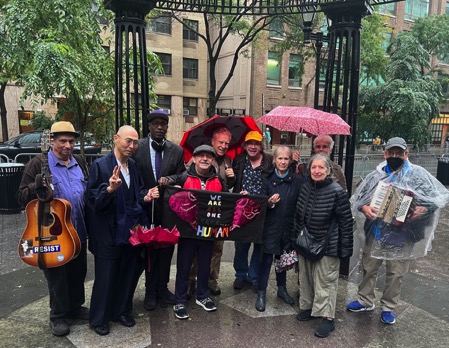 In December, 2013, the UN declared September 26th the International Day for the Total Elimination of Nuclear Weapons. For nearly 10 years, PCMNY and now PCNYS have been observing this important day with an interfaith gathering near the UN. All are invited to come and share a prayer, poem, reflection, or hymn for the abolition of nuclear weapons or, more generally, for peace. This year's rainy day still welcomed 11 hardy people from Christian, Buddhist, and secular traditions, a smaller number than usual, but with the same passionate appeal for nuclear abolition and peace.
In addition:
PCNYS composed and sent a letter to Pope Francis appealing to him to proclaim ex cathedra the removal of Catholic Just War Theory from our Moral Tradition and raise Jesus's Gospel Nonviolence to a de fide teaching.
Marian Ronan of Pax Christi Downtown Brooklyn, a local group in PCMNY and PCNYS, had an "Up Front and Personal" article published in the diocesan paper, The Tablet. "Looking Up at a Great Light" raises the call for nuclear weapons abolition. You can read the full article here:
Finally, PCNYS has endorsed, signed, and/or co-sponsored the following:
The Afghan Adjustment Act of 2023
Temporary Protected Status and Special Student Relief for Pakistan
A UN Treaty on the Prohibition of Weaponized Drones
A Ceasefire and Vigorous Diplomacy in Ukraine to prevent nuclear war
The Global Days of Action for a Ceasefire in Ukraine (Sept. 30-Oct. 8)
The closing of Guantanamo Prison, just treatment for the men still detained there, and asylum in the U.K. for Ravil Mingazov, a former Guantanamo prisoner
The U.S.A. to phase out fossil fuels to tackle the climate emergency
Closure of Immigration Centers of America-Farmville Detention Center
"Nuclear Taboo: From norm to law—A Declaration of Public Conscience" by the UN that "the use or threat of use of nuclear weapons is inadmissible."
And PCNYS has signed in opposition to new funds for the Department of Homeland Security that would negatively affect refugees and asylum seekers