The peace movement is definitely alive and well in New York State. Here's the latest.
End U.S. Complicity in the Humanitarian Crises in Yemen
March 1st was a national day for protests to end U.S. Support for the Yemen War. Since March 2015, the Saudi/UAE-led bombing and blockade of Yemen have killed tens of thousands of people and wreaked havoc on the country. Seventeen million people in Yemen are food insecure and 500,000 children are on the verge of starving to death. Tragically, the U.S. has enabled the Saudis by servicing their fighter jets and providing military and diplomatic support for the Saudi/UAE-led coalition. Pax Christi Long Island joined South Country Peace Group, North Country Peace Group, the LI Alliance for Peaceful Alternatives, and Peace Action New York State to demand Congress end this war by doing the following:
Pass a War Powers Resolution to end U.S. participation in the war in Yemen.
Stop Weapons Sales to Saudi Arabia and the UAE.
Call on Saudi Arabia and the UAE to Lift the Blockade and Fully Open Airports and Seaports.
Support the People of Yemen by calling for the expansion of humanitarian aid for the people of Yemen.
Assemble a Congressional Hearing to Examine the U.S. Role in the War in Yemen.
20th Anniversary of the War in Iraq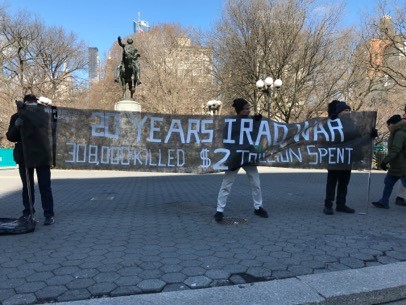 On Sunday, March 19th, members of PCNYS joined NYC War Resisters League, Brooklyn for Peace, Catholic Worker, Kairos Community, World Can't Wait, Peace Action NYS, Veterans for Peace/Chapter 34, and the Granny Peace Brigade for a vigil, street theatre, and march from Union Square to Washington Square Park to say "RESIST ALL WAR!" We distributed fliers that demanded an immediate ceasefire in Ukraine along with negotiations to end the war, the slashing of the Pentagon budget, the funding of human needs, and a concerted commitment to save the planet. The flier also provided additional facts and specific action steps. We were accompanied by music from the Rude Mechanical Orchestra, the NYC Raging Grannies, and the Filthy Rotten System.
Pax Christi Long Island Peacemaker Award Luncheon
On April 1st, Pax Christi Long Island honored Dr. Camillo "Mac" Bica at a luncheon held on the campus of St. Joseph's University in Patchogue. Co-sponsors of the event were North Country Peace Group, South Country Peace Group and the Long Island Alliance for Peaceful Alternatives. About 65 people attended. This tribute to Dr. Bica recognized his long-term efforts to educate about the horrors of war and its moral impact on soldiers. He served as a US Marine Corps Field Officer and was on active duty for 13 months in Viet Nam during the war. He is the author of numerous books, articles and testimony on PTSD, the ethics of war, and moral injury. As a co-founder of the Veterans for Peace chapter on Long Island, he is a long-time local activist for peace. Dr. Bica holds a Ph.D. in Philosophy and currently teaches courses on philosophy, war, peacemaking, and ethics at The School of Visual Arts in NYC. The Link is for a short slide show of the event is here: https://www.youtube.com/watch?v=DIH1w37sVJ8.
2023 Nevada Desert Experience Sacred Peace Walk
Not happening in New York State, but still of note for us New Yorkers, was this year's 2023 Nevada Desert Experience Sacred Peace Walk thanks to John Amidon, one of our upstate members. John spent early April in Nevada for a pre-trial hearing for participating in a demonstration at the Nevada National Security Site on October 16, 2022. At the hearing, he and Brian Terrell, a fellow activist from Maloy, Iowa, asked the judge to recognize western Shoshone land rights, the dangers of nuclear waste, the illegality of nuclear weapons testing and first amendment rights. They also participated in the 2023 Nevada Desert Experience Sacred Peace Walk during Holy Week, the same period when the 432nd Wing at Creech Air Force Base was conducting a base-wide readiness exercise intended to confirm mission readiness and test Airman resiliency. The Walk, in contrast to the Air Force's readiness exercise, is an annual interfaith walk of approximately 60 miles through the Mojave Desert on the beautiful traditional lands of the indigenous Western Shoshone and Paiute peoples. Its purpose is to create a nonviolent, compassionate community, and its message to Creech Air Force Base, the heart of the U.S. drone assassinations program and where more than a thousand atomic weapons have been detonated making it the most bombed place on the planet, is a message of nonviolence and one that includes opportunities for nonviolent civil resistance. Watch three short videos of the Walk here: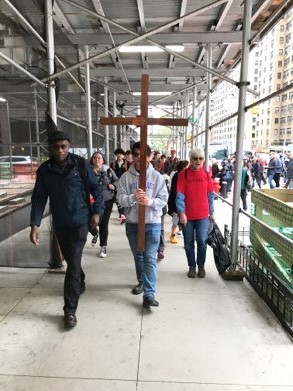 Good Friday Way of the Cross
Pax Christi Metro New York returned to the streets of Manhattan after three years of COVID-19 for its 41st Annual Good Friday Way of the Cross. This year's theme for all the Stations was "All are equal in God's sight." As always, 15 different groups planned the 15 Stations that recall Jesus's passion and how he continues to suffer in people today, but also remember the ultimate victory at the Resurrection. Particularly moving this year were a Station led by four young children from St. Francis Xavier's Family Faith program, a bilingual Station in English and Spanish, and a Station led by two formerly homeless adults.
Don't Nuke the Pacific. Don't Nuke the Hudson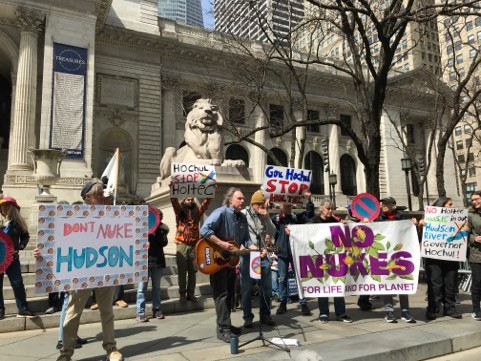 PCNYS was pleased to co-sponsor this rally and march from the main branch of the New York Public Library to Senator Schumer's office building and the Japanese Consulate on Holy Saturday. We were there under the leadership of the Manhattan Project for a Nuclear-Free World to protest the planned dumping of radioactive wastewater from the Fukushima Power Plant into the Pacific Ocean and radioactive wastewater from Indian Point Nuclear Power Plant into the Hudson River. Needless to say, improper disposal of radioactive material into the environment can impact humans, animals, plants, and all living things. Radioactive isotopes could be incorporated into living cells, adding to human health risks.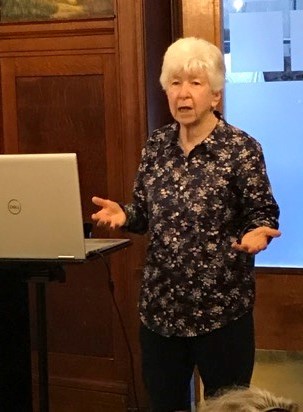 From Adam and Eve to the Cross and Beyond
(including a stop with the goddess and on to the new cosmology)
This intriguing title was the theme of Pax Christi Metro New York's one-day hybrid retreat (in-person and on-line) led by Mary Anne Muller on April 15th, 2023 at St. Francis of Assisi's Parish House in New York City. Mary Anne Muller is a long-time member of Pax Christi, a staunch peace activist, and an adjunct theology professor at St. John's University in Jamaica, NY. She is also a student of scripture, its roots in various philosophies and mythologies of ancient cultures, and of the new cosmology. All three played an important part in her presentations.
Read all about it here.
Tax Day 2023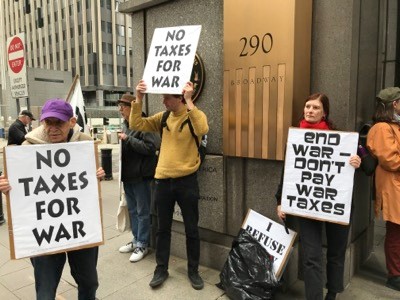 Once again, members of PCNYS joined our colleagues from NYC War Resisters League, Catholic Worker, the Kairos Community, and many more. This time we met outside the IRS offices downtown Manhattan to say, "Taxes for Peace, Not for War and Militarism." We handed out the War Resisters League's pie chart showing where our taxes go and were very pleased with the receptivity of passers-by. Music and street theatre helped draw attention to our message. From the IRS building we walked to City Hall with Move the Money NYC to urge the City Council to pass a resolution to "move the money" from military purposes to human needs like affordable housing, living wages, quality education, and universal health care. Folks from the Move the Money Campaign had a Penny Poll set up, which many people were eager to do. As we would hope and expect, funding the military was far less popular than funding the very things the city resolution promotes.
Merchants of Death Tribunal
Pax Christi Upstate New York/Ben Salmon Chapter spent the day before Earth Day, April 21st, engaged in some very creative and important activism to address the deadly misallocation of resources happening on a daily basis not just upstate, but throughout our country—investing in weapons for war, rather than tools for peace. Their actions, in conjunction with fellow peace organizations, included:
Music
Guerrilla theater to satirize enablers of the Merchants of Death
A Press Conference outside Sen. Charles Schumer's and Sen Kirsten Gillibrand's offices
The issuing of subpoenas to both Senators, to Chase Manhattan Bank for its financial support of the Merchants of Death, to the Catholic Bishop of the Diocese of Syracuse for investments in the Merchants of Death, to Lockheed Martin for its lethal weapons manufacturing, and to Hancock Air Base's 174th Attack Wing for its US war crimes in the Middle East, specifically Afghanistan—all to testify at the Merchant of Death Tribunal between November 10 and 13.
Read more about it at https://merchantsofdeath.org/, and check out these videos of some of the actions:
https://youtu.be/dNu79dlc1cI; https://www.youtube.com/watch?v=bniO_ize5-0
Anti-nuclear movement is international, intergenerational, more urgent than ever
Jack Gilroy from Pax Christi Upstate New York was featured in an article at the National Catholic Reporter. You can read it here: https://www.ncronline.org/earthbeat/viewpoints/anti-nuclear-movement-international-intergenerational-more-urgent-ever.
Letters and Sign-ons
Between March and May, 2023, PCNYS has sent letters and signed on to numerous appeals for the following:
Passing H.Res. 77 in support of the Treaty on the Prohibition of Nuclear Weapons
Ending Immigration Detention Contracts that expire in 2023
Establishing a Cabinet-level Department of Peacebuilding
Repealing the Authorization forUse of Military Force (AUMF)
Permanently ending Family Detention
Rejecting recent restrictions on religious freedoms and attack on houses of worship, cemeteries, and clergy in Israel and Palestine
Calling for a ceasefire and negotiations to bring peace to Ukraine
Abstaining from new military agreements that contribute to the violation of human rights in the Philippines, and
Declaring this Mother's Day as a national day of repentance, mourning, prayer, and reflection to address the culture of gun violence.
Pax Christi New York State, Inc.
PCNYS received its Certificate of Incorporation in New York State in late February thanks to the efforts of our Council member, Pierre Fidelia. This is an achievement that opens up more doors to us as a state entity of Pax Christi USA.
Farewell and Thanks
Ryan DiCorpo, Co-coordinator of Pax Christi New York State since its inception, has completed his Master's Degree in Journalism and is moving on to full-time work at America Magazine. Consequently, he will be leaving PCNYS as Co-coordinator. We wish to thank Ryan for his two years of service to our infant state chapter of PCUSA. Congratulations on your graduation and all the best in your new profession! We hope to see you around whenever you are able.